"It's what we do."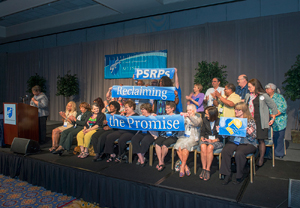 That sentiment resounded again and again throughout the 37th Annual Paraprofessionals and School-Related Personnel Conference in Orlando, April 11-13, titled "Reclaiming the Promise: Uniting Our Union, Our Schools and Our Communities." PSRPs shared the many ways they go the extra mile, find the additional resource and push that little bit more to ensure that all public school students have safe and welcoming schools and that support staff get the respect they deserve for the work they do every day.
This year, a pre-conference "jump start" event on Thursday underscored the reason we are passionate about our work: We help kids who need us. Guided by the Osceola County Education Association, PSRPs teamed up with Families in Transition at Westside K-8 School in Osceola County, Fla., where nearly 300 students are considered homeless, to stuff backpacks with food and school supplies and join the students to make a Reclaiming the Promise quilt. In partnership with First Book, members also read to the children and distributed 1,500 free books. Others planted a Reclaiming the Promise garden.
"Together, we can reclaim the promise of neighborhood schools that are safe, welcoming places for teaching and learning," Ruby Newbold, chair of the PSRP program and policy council, an AFT vice president and president of the Detroit Association of Educational Office Employees, told the hundreds of conference participants.
It's what we do.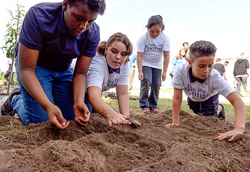 "It's not, 'If it ain't broke, don't fix it,'" said Anthony Harmon, director of community and parent engagement at the United Federation of Teachers in New York City, at a community engagement workshop on Friday. "It's, 'If it ain't broke, how can we make it better?'" Members shared information about existing programs and ideas about how to develop long-term collaboration with partners— parents, housing and child rights advocates, the NAACP, the AARP and faith-based community organizations—who can help us improve the lives of our students.
Members also learned more about the AFT's initiative to reclaim the promise; signed on by the dozens for materials like buttons, T-shirts and fliers; and left ready to spread the word about how the AFT is ensuring students have safe, welcoming schools and well-prepared and trained staff to serve them. Members have already been busy at a myriad of events and programs that exemplify the initiative, said Kris Havens, director of special projects for the AFT. "Reclaiming the Promise is not just wearing a T-shirt," she said.
On Friday night, AFT President Randi Weingarten told the conference attendees, "You are the lifeline of every single school and school community," but, she added, too often PSRPs go unrecognized. As unions are targeted by politicians who want to destroy them, said Weingarten, "there are fewer and fewer resources, fewer and fewer helping hands. If it's not the budget cuts, it's the privatization or the deprofessionalization." Weingarten was especially sympathetic to the audience. "You see that all the time," she said. "The first group of people that somebody pretends can be outsourced or slashed are the PSRPs."
But we are still strong, she added. "For all of the bumps and bruises and scars we've taken, we're still the most important engine for working families at the ballot box and at the bargaining table," she said.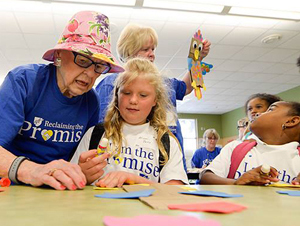 "We've learned that community has to be our new density," Weingarten went on to say. "We've learned that we need to be solution driven. … We have to make people understand that public education is the anchor of democracy [and] the propeller of the economy. … That happens because you help kids build trusting relationships with their peers and with adults. Our job is not just reading, writing and arithmetic. Our job is to help kids grow."
Conference participants were offered nearly 60 different workshops to choose from, with topics ranging from first aid to school discipline, and from labor history to para-teacher partnerships. At special interest group breakfasts, participants like custodians, secretaries, accountants, maintenance and skilled craftspeople, paraprofessionals for different age groups and settings, food service workers, security guards and bus drivers put their heads together on issues specific to their work.
Back in the general sessions, participants learned about ALEC, the corporate-influenced lobbying organization that has created model legislation to serve the richest people in the nation, and further disadvantage the poor. They listened as AFT Everyday Hero nominees shared their passion for their work, and they cheered when Sharon Baker, the president of the TOTEM Association of Education Support Personnel in Alaska, was awarded the Albert Shanker PSRP Pioneer Award. And they danced and sang their way through a spirited Solidarity Night, a hallmark of the annual conference, peppered with skits, parades and homespun music.
It's what we do. [Virginia Myers/Photos by Michael Campbell)]